Your Guide to Lana'i, Hawaii
In April, a few of Jetset World Travel's advisors had the opportunity to experience the two Four Seasons resorts on the island of Lana'i, Hawai'i. Spoiler alert: it was MAGICAL.
Known as the land of untouched beauty, Lana'i is an entire island that is off the beaten path of Hawai'i. With a population of about three thousand people on the island, it has been preserved so well that is has few paved roads and is free of large crowds. You almost feel like you've stepped back in time immersing yourself in nature and discovering the meaning of aloha.
We know 'aloha' as the common greeting of 'hello' or 'goodbye' in Hawaiian. But did you know that 'aloha' is much more than a greeting? It's actually a symbol of Hawaiian culture. Hawaiian natives refer to the word as the 'spirit of aloha,' which represents love and affection. The spirit of aloha starts by teaching ourselves to love our own beings first so that we can be able to spread love to others. Aloha is sending and receiving positive energy, living in harmony, and contributing to a better world.
There are two Four Seasons resorts on the island of Lana'i and each have their own distinct personality, experiences, and energy. Four Seasons Resort Lana'i sits on the coast of the island and is the definition of a Hawai'i beach vacation with endless ocean views. A short 20-minute drive from the coast and up the hill, you'll find Sensei, a Four Seasons Resort. Sensei is the ultimate wellness resort embedded into the lush nature of the island. 
The Four Seasons resorts make your travel effortless by offering complimentary transfers from Honolulu to Lana'i with their luxurious charter air service via Lāna'i Air. Four Seasons' staff members accompany you every step of the way, beginning with a very quick 35-minute flight to the island, then transporting you to the resorts, each only about a 10-minute drive from the airport.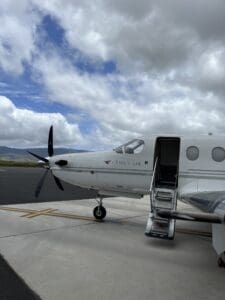 FOUR SEASONS RESORT LANA'I
Lana'i is already a truly special destination as it's one of the last Hawaiian islands that is practically untouched. And Four Seasons Lana'i is where luxury beach getaway meets an aquatic sanctuary. There is adventure, relaxation, and aloha all in one trip. Four Seasons Resort Lana'i is ideal for a family vacation or a romantic getaway for two! 
Situated right on the coast of the island, you'll hear endless ocean sounds throughout your stay. There are two pools on property – one that is perfect for kids and the whole family and another that is for adults only. And you'll never tire from the food! There are five full restaurants on property, room service, and three bars. To make the food options even more appealing, the world-renowned Nobu Lana'i offers an intimate and interactive 15-course Teppanyaki dinner experience with fresh, locally sourced ingredients.
Four Seasons has specially tailored their activities to uncover the culture and landscapes of Lana'i with their Love Lana'i Cultural Advisors. Their mission is to offer guests the experiences to explore storied places, share history and immerse themselves in the island's rich heritage.
Virtuoso, the leading global network specializing in luxury and experiential travel, recognized both of Lana'i's resorts, Four Seasons Lana'i and Sensei Lana'i, with the Celebrating Culture Award. The Celebrating Culture Award celebrates those who have been a driving force in transforming and impacting others in their local community, the travel industry, and/or the world around them through the expansion of knowledge, beliefs, arts, customs, and capabilities. The resorts' on-site Love Lana'i Cultural Advisors, along with a Hawaiian Cultural Practitioner and Historian, are integral to this mission that brings the island's unique spirit and historical legacy to guests. 
One of the most unique experiences takes guest on a tour of the night sky at their Lana'i Observatory which uses a 3.2 foot telescope with the Kilo Hoku experience. Love Lana'i Cultural Advisors share how Indigenous Hawaiians and people of the Pacific utilized the stars to guide their way on the ocean since as early as 400 AD.
The guided cultural hikes, off-roading excursions, boat tours, and water activities show the island's most iconic landmarks along with the native history of the beach region and the traditions.
There is something incredibly special about the Hawaiian breeze. The smell of the salt water and the fresh air, they wash over you with an immediate sense of renewal and peace. Watching the sunset over the Pacific Ocean during a sailing cruise along the Lana'i coastline while dolphins swim alongside you is the cherry on top. The sunset sail is an absolute must. An unforgettable experience that you will cherish forever.
Tennis was the Jetset advisors' favorite bonding activity! Tennis is a well-loved sport in the Jetset World Travel community and Four Seasons Resort Lana'i has created an exceptional tennis centre. The session was led by a tennis pro who created an environment that allowed six of the advisors to play together as a team. With an energetic charisma, the coach ran exciting drills and made up his own version of a 3-on-3 tennis match for the team.
And of course, a one-on-one lesson on the Manele Golf Course. Built on lava outcroppings, this Jack Nicklaus-signature course features three holes perched on cliffs with epic ocean views. Our advisors had the opportunity to try out the Trackman Technology, which records your swing and allows for instant and actionable feedback on club delivery, launch, ball flight, and landing. Our travel advisors started as amateurs and left as professionals!
SENSEI, A FOUR SEASONS RESORT
THE DREAM WELLNESS RESORT
There are wellness resorts and then there is Sensei. Within the highlands of Lana'i, Sensei brings to life a fully immersive path to move, nourish, and rest your body. The team at Sensei have created a truly heartfelt and intentional experience made to best match your personal wellness journey. Each of the Jetset travel advisors had their own deeply personal connection to the property by the end of their stay.
This resort was made with everything we love about Four Seasons accommodations and more. From the very arrival, the staff greets you like you've arrived at home. The exteriors of the building are surrounded by lush gardens and stunning sculptures, and the interior is warmly lit with the coziest furniture design. The rooms are spacious, bright, and instantly comfortable and made with private balconies that open to beautiful garden views.
Sensei is open to guests ages 16 and older. With 90 guest rooms and six suites on property, it never feels too crowded. Its quiet atmosphere is absolutely relaxing. The property has one full restaurant, room service, and one bar. The restaurant is Sensei by Nobu, the only Nobu in the world to offer breakfast, lunch, and dinner. The ever-changing dining menu includes selections that incorporate Sensei's nutritional philosophy as well as traditional classic dishes by Nobu.
Though this resort isn't walking distance from the ocean, water is featured throughout the property with koi ponds, peaceful waterfalls, and a large pool with three hot tubs. Our favorite aspect about Sensei's property are the 10 heated soaking tubs nestled secretly into the gardens for privacy and relaxation.
Everywhere you look, there is intentionally placed artwork indoors and outdoors throughout the entire resort. The art is thoughtfully curated to inspire the creative spirit and further enhance relaxation. Did we mention Sensei is all about relaxation? And they deliver.
'Hale' means 'home' in Hawaiian and Sensei definitely wants you to feel at home. The spa sessions are taken place in your very own personal and private hale which have been built in Thailand and then carefully barged over to Lana'i. These 1,000-square-foot luxury pavilions are your sanctuary to enjoy private time before or after your spa and wellness treatments. The infrared saunas, steam room, indoor AND outdoor showers, and soaking pools with a private garden allow you to enrich and reflect in complete peace. The spa session can be a treatment just for yourself or shared with a partner to cultivate connection.
Wellness looks different for everyone and Sensei has curated packages that are meant for your specific goals and journey. They truly understand that wellness is not a one-size-fits-all concept and offer choices that reflect that. Our Jetset travel advisors received a crash course on all that Sensei has to offer and it is fully customizable to the traveler. We're here to help you find the perfect experience for you!
Start your journey with a wellbeing consultations by skilled practitioners and guides who have achieved advanced degrees that align with Sensei's paths to 'Move, Nourish, and Rest.' The team tailor-makes each experience for the individual – fitness workouts, unique meditations, psychology sessions, nutrition strategies, yoga, forest bathing, and guided hikes. They also crafts special excursions to include mountain biking, horseback riding, catamaran sails, snorkel experiences, adventure park challenges, golf, tennis, and more.
TREAT YOURSELF TO A HAWAI'I GETAWAY
There's a reason why Hawai'i is on everyone's list – it's paradise! Hawai'i islands each differ from the other with landscapes, vibes, experiences, and even micro-climates. Not to mention the many resort options, each with their own aesthetic, experiences, and personality. Having an expert on your side will help you best determine which island and resort will bring your dream Hawai'i vacation to life.